Wednesday September 13, 2006
Everybody Hurts, Sometimes
A few weeks ago, Adam mentioned some of the shuffling going on at Technorati's data centers. Yep, we've had our share of operational instability lately, when you have systems that expect consistent network topologies and that has to change, I suppose these things will happen. It seems a common theme I keep hearing in conversations and presentations about web based services: the growing pains.

This morning, Kevin Rose discussed The digg story: from one idea to nine million page views at The Future of Web Apps workshop. Digg has had to overcome a lot of the "normal" problems (MySQL concurrency, data set growth, etc) that growing web services face and have turned to some of the usual remedies, rethinking the data constructs (they hired DBA's) and memcached. This afternoon, Tantek was in fine form discussing web development practices with microformats where he announced updates to the search system Technorati's been cooking, again a growth induced revision. Shortly thereafter, I enjoyed the stats and facts that Steve Olechowski presented in his 10 things you didn't know about RSS talk. And so it goes, this evening it was Feedburner having an episode. "me" time -- heh, know how ya feel <g>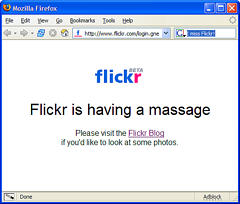 While Feedburner gets "me" time, Flickr gets massages when they have system troubles. Speaking of Flickr, I'm looking forward to Cal Henderson's talk, Taking Flickr from Beta to Gamma at tomorrow's session of The Future of Web Apps. I caught a bit of Scaling Fast and Cheap - How We Built Flickr last spring, Cal knows the business. I've been meaning to check out his book, Building Scalable Web Sites.
Perhaps everybody needs a therapeutic message for the times of choppy seas. When Technorati hurts, it just seems to hurt. Should it be getting meditation and tiger balm (hrm, smelly)? Some tickling and laughter (don't operate heavy machinery)? Animal petting (could be smelly)? Aromatherapy (definitely smelly)? Data center feng shui? Gregorian chants? R.E.M. samples?
futureofwebapps-sf06 palaceoffinearts flickr feedburner digg technorati microformats memcached
( Sep 13 2006, 09:26:42 PM PDT )
Permalink